This is the first part of a series of articles designed to introduce an integrated pest management framework for cannabis cultivation facilities. Part one details an overview of the plan as well as pest identification. Part two comes out next week and will delve into the world of pest monitoring and record keeping. Stay tuned for more!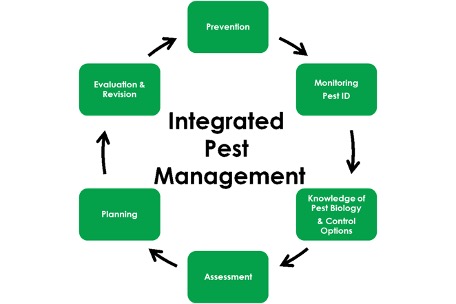 Background
Integrated Pest Management (IPM) is a philosophy of pest prevention and control that integrates cultural, mechanical, physical and chemical practices to control pest populations within an acceptable degree of economic tolerance.
IPM encourages growers to take a step-wise approach to determine the most appropriate means necessary for avoiding pest-related economic injury through careful consideration of all available pest control practices.
When practicing IPM, less invasive non-chemical practices are given priority, until escalation necessitates otherwise.
This is Part 1: Pest Identification & Monitoring/Communications
Personal experience in a facility is a great place to start. Review your history and identify a list of pests that you have experienced in this or previous grows. Point out which pests currently exist where they were or are currently and possible sources of the contamination/infestation.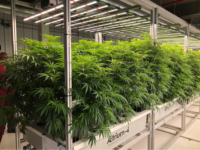 Map out your facility with clear entry/exits, plumbing & drainage and air flow access to visually see and understand potential access points for crawling, flying or airborne pests.
From your nursery mother room to cloning and vegetation areas, what are the transfer methods as you move from one area to another. Are pests present in these areas? Where could they have come from? Oftentimes, a cultivator may not have the space for their own mother and cuttings/cloning space. In these cases, where did the outsourced clones come from? What are the IPM controls in place for these genetic sources? Are they carriers of the challenges transferred to your own facility? It is important to identify the possible source of pest potentials
Does your flower room have white flies or fungus gnats? Locating these and identifying the likely source is a good place to start if you have an ongoing infestation.

Powdery mildew is a routine challenge if air into your facility is not filtered and sterilized to eliminate these spores.
What is the Source of Your Irrigation/Fertigation Water?
Water is a crucial element for high-value indoor farms such as those that grow cannabis. However, water can also be a source of disease-causing microorganisms that can negatively impact the growth and yield of crops. Monitoring, filtering and sterilizing the biological contents of water is therefore crucial in ensuring the health and quality of high-value crops.
Unfiltered water can contain a range of pathogens such as bacteria, viruses, fungi and parasites that can cause root, stem and bud rot. These diseases can cause significant losses in crop yield and quality, which can be devastating for indoor farmers growing high-value crops.

Monitoring the quality of water that is brought into the indoor farm is the first step in ensuring that the water is free from harmful pathogens. This involves regular testing of the incoming water for parameters such as pH, dissolved oxygen, TDS, nutrient content and microbial load. This allows cultivators to identify aspects of the incoming water they need to address before the water is provided to their crops to prevent potential problems.
Is your plumbing building biofilm that is feeding into your irrigation lines? Obviously, there are many potential sources when you go through an inventory of the risks for your facility. From that initial step, you will build your management team and label who should be contacted when a pest is found. Do you have an IPM specialist or is this a resource that needs to be contracted to address an infection?
Building this communications tree is your first step to fewer pest issues and higher yields and potency.
For the complete white paper on Integrated Pest Management Recommendations, download the document here. Part two comes out next week and will delve into the world of pest monitoring and record keeping. Stay tuned for more!