Following years of attempts by legislators and activists to get legal medical cannabis moving in Kentucky, the state just legalized medical cannabis last week, making it the 38th state in the country to legalize medical cannabis. In front of a crowd of stakeholders, advocates, patients and legislators, Governor Andy Beshear signed SB 47 into law along with a sports betting bill as the crowd erupted in applause.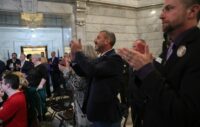 "I have been pushing for medical cannabis and sports betting for years," Gov Beshear wrote in a tweet. "Today, I signed these two bills into law. Team Kentucky delivers and we get results. Congrats, Kentucky." The Cabinet for Health and Family Services is tasked with developing the regulations for medical cannabis, which are due by July 1, 2024. The law doesn't go into effect until 2025 though. That agency will be in charge of implementing the medical cannabis program, operation, oversight and regulation for growing, retail and production.
Each state legalizes cannabis in its own weird way and Kentucky is no different. The bill does not allow cannabis smoking, but does allow for raw cannabis flower to be sold and vaporization. Qualifying conditions include PTSD, epilepsy, cancer, nausea, MS and pain management, but the bill allows for more conditions to be approved for medical cannabis prescriptions later on. This sort of foot-in-the-door approach has been used by plenty of other states and often carves a path for a broader, more sensible medical cannabis framework following legalization.
Rep. Jason Nemes, R-Louisville is a major proponent of medical legalization in Kentucky and has sponsored bills in the past. While he stressed the importance of the weird no-smoking provision, he also praised the legislature for finally getting this done. "There are thousands and thousands of Kentuckians who just want to be and want to feel better, and this will help them with that," says Rep. Nemes.